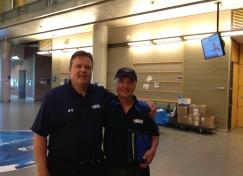 We are pleased to announce that Steve Davies has been selected to be a member of the O.H.L.
Goaltending Advisory Board. The mission of the Board is to work to improve goalie training
at all levels of hockey throughout the province. The Advisory Board is led by former N.H.L.
goaltender and Master Coach, Rick Wamsley of the Ottawa Senators. Other members of the
Board include: Fred Brathwaite (Hockey Canada), Sebastien Farrese (Belleville Bulls), Kory
Cooper (Mississauga Steelheads), David Rook, (Sarnia Sting) and David Belitsky (O.H.L. Central
Scouting)
Steve is honoured to join a group of such knowledgeable and dedicated goalie coaches. He
hopes to make a meaningful contribution to the success of the group.