Matthew Galajda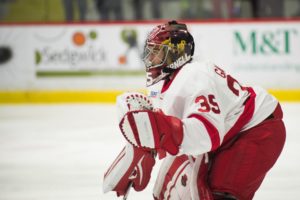 Congratulations to Matthew Galajda… One of our former students and current coach at our Goalie School. Matthew was also coached by our good friends David Belitski and Tom Lawson. Check out the article!
Rob Zepp
Congratulations to Rob Zepp for his first NHL win against the Winnipeg Jets. Rob has played professionally in Europe for the passed 13 years where he won numerous championships in Germany and also played in the World Championships. Rob was a student and coach at our goalie school for many years. Congratulations Robbie!!!
Michael Argyrides
We would like to congratulate Michael Argyrides of the Markham Waxes AAA Minor Midgets for being selected as the "Cover Goalie" for the OMHA Hometown Hockey Magazine. Michael is a long-time student and current instructor at our summer goalie schools. Congratulations, Michael!!
Andrew Shortridge
We would like to congratulate Andrew Shortridge for accepting a full scholarship to Quinnipiac University for the upcoming year. We had an opportunity to help with Andrew's training last year and he also coached at our goalie school last summer. We look forward to hearing more about Andrew's success in the years to come. Good luck, Andrew!!
John Fust
This is a picture of John Fust, the coach of the Swiss National Jr. Team. John attended Crescent School where he also played for the varsity team that I coached.
Jimmy Sarjeant
We are proud to let you know that former student, and current instructor Jimmy Sarjeant has been nominated for the Hobey Baker Award!