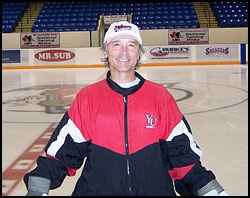 Steve grew up in Windsor Ontario where he played all of his minor hockey before signing with the Cornwall Royals of the Quebec Major Jr. "A" League. Steve ended his Jr. "A" career with the Brockville Braves of the CJHL. While tending nets for the Braves, Steve was named to the CJHL First All Star Team and was selected as the Leagues' Most Valuable Player. The following year, he was invited to several NHL training camps but chose to sign a contract with the Philadelphia Blazers of the World Hockey Association.
After playing professional hockey, Steve attended Saint Mary's University where he played for the nationally ranked Huskies. In both seasons that Steve played for the Maroon and White, he had the lowest goals against average in Canadian University Hockey and was twice selected to the A.U.A.A. First All Star Team. In his final year of varsity competition, Steve was selected to the C.I.A.U. All Canadian Team and invited to participate in the Canadian Olympic Program. Steve declined the invitation in order to accept a teaching position at Crescent School in Toronto where he is Head of History.
Since hanging up his skates, Steve has been very involved with coaching both teams and goaltenders. Steve served as the Senior Hockey Coach at Crescent for many years and he was also the Head Coach of the York Simcoe Express 1983 age group at the Minor Bantam and Bantam level. While coaching with the Express, his Minor Bantam kids won the O.M.H.A. Title and the following year they lost in the O.M.H.A. final to an excellent team from Richmond Hill.
However, Steve's truest expertise is in coaching goalies the skill sets needed to be great players. On most winter evenings, Steve can be found in the local rinks with the deflection board that he has used since 1975. The board, which has become Steve's trademark, forces goalies to use their feet and react to deflected pucks. Steve always teaches that if a goalie has great feet, his hands will follow.
Over the years, Steve has been the Head Goalie Coach at some of the most highly recognized hockey schools across the country and has lectured extensively on the art of goaltending. He has served as the goalie coach for numerous Minor Hockey teams in the GTA and he has also served as the Goalie Coach for several teams in the Provincial Jr. "A" League and the O.H.L. Steve is presently in his twelfth season as the goalie coach for the York University Lions of the C.I.S.
Finally, Steve is also a professional teacher with over 35 years of experience at one of Canada's leading Independent Schools. He has experience with virtually every age and ability level. As a teacher, he understands the importance of creating a positive learning environment both in the classroom and on the ice.