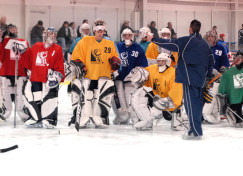 With the hockey tryouts just around the corner, I know how difficult it is for everyone involved. The coaches have the challenge of putting together the best team possible and making sure all the pieces of the puzzle fit. The youngsters trying out for the teams will be paraded out onto the ice to strut their stuff and hopefully catch the attention of the coaches perched in some lofty nest where they can speak freely without fear of being overheard by parents. In my region of York Simcoe, it is not uncommon to have as many as twenty goalies trying out for a Triple A team. During the ensuing drills and scrimmages, each goalie gets about seven minutes to show what he or she can do. Often, the coaches are so pre-occupied with the task of selecting skaters with both obvious and subtle skills that they don't even notice the goalies. During scrimmages, the goalies play "musical nets" as they race from the bench to the net and back again, often changing on the fly, hoping to make a big save and dreading the thought of letting in a bad goal. Unless one happens to be an incumbent or a goalie with some reputation, everything hinges on those precious seven minutes. Welcome to the life of an aspiring goalie during tryout season.
This year, the York Simcoe Express chose a different venue for goalie selection and we think it worked very well. Instead of going into the regular team tryouts with an unmanageable number of goalies, the association allocated 4.5 hours of ice on two consecutive evenings for goalie assessment. On the Monday evening, for example, all the Novice, Minor Atom, and Atom goalies were put through various station drills that were set up to allow the goalies to demonstrate their skills. These were followed by the Minor Pewees, Pewees and Minor Bantams. The final session was for the Bantams, Minor Midgets and Midgets. While this was going on, the coaching staffs for the various age levels had a much better chance to focus on the goalies and offer some valid insights as to why a goalie was selected or not selected to advance to the scrimmage round of the tryouts. In fact, many coaches compiled detailed reports that they shared with the parents.
Of course, this system isn't perfect. Some goalies show better during games and often times the drills are so choreographed as to take the anticipation factor out of the assessment. Still, it gave the goalies a chance to demonstrate their skills in a controlled environment. How well these skills translated into game conditions was left to the next round. In the final analysis, the coaches were very pleased with the process and the parents and goalies knew that they were given a better chance to "strut their stuff". That's about all anyone could really hope for at this trying time of year.